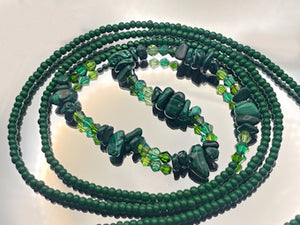 MALACHITE.
Sale price Price $100.00 Regular price Unit price / per
Malachite is the essence of joy and known as the "stone of transformation" because it helps reveal and heal emotional pain by absorbing the pain into itself. It is especially helpful in bringing ease during times of change and gives the insight needed for personal growth.
The malachite stone is also known as "the midwife stone."  It is believed to resonate with the female reproductive organs, alleviate cramps and facilitate childbirth by lessening labour pains.
In a variety of times and cultures, malachite has been considered a gemstone of women and has been dedicated to Egyptian, Roman and Norse Goddesses. 
Chakras:  With its pure energy rays of green, Malachite is dedicated to the Heart Chakra.