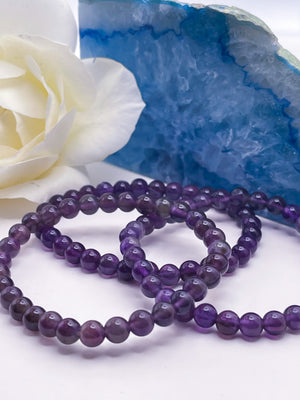 AMETHYST. (Crown Chakra)
Sale price Price $30.00 Regular price Unit price / per
Handmade and stranded on durable, stretchy elastic.  One size fits all.

Stone: Natural Amethyst, works with Crown and 3rd Eye Chakras.
Amethyst is a very powerful and protective stone. It is often called the "Stone of Sobriety" due to its common use in helping overcome various addictions. Amethyst is a natural stress reliever and encourages inner strength. Amethyst has a strong healing energy that can transmute lower vibrations to higher frequencies and can transform negative energy to positive. Amethyst has a peaceful, loving energy and helps with developing intuition and psychic abilities. Amethyst activates the Crown Chakra to enhance spiritual awareness and promote a higher state of consciousness. Amethyst clears and repairs holes in the aura and draws in Divine energy. Amethyst is also often used help to alleviate headaches and migraines as well as to dispel nightmares and help with insomnia.
Birthstone:  February, Aquarius