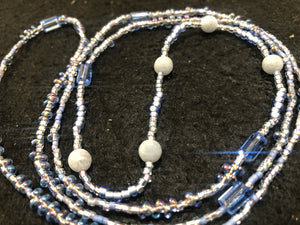 BLUE ANGELITE.
Sale price Price $65.00 Regular price $70.00 Unit price / per
Angelite, also known as anhydrite or angel stone, is a glacier blue colored soft stone that has a white center and snow-white flecks.  Our strand features frosted Angelite from Peru.
Metaphysical properties:  Angelite is thought to improve spirituality and spiritual awareness, with a peaceful energy that is calming and soothing. Many believe it promotes communication and self-expression while dispelling fear, anger and anxiety.
Angelite is closely related to the astrological sign of Aquarius. Because of its blue color, angelite is associated with the throat, third eye and crown chakras.