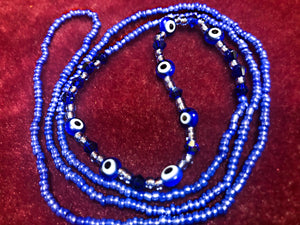 DĒÎTĒ.
Sale price Price $77.00 Regular price Unit price / per
[
dee
-i-tee ] 
noun, plural de·i·ties.
a god or goddess; divinity. divine character or nature, especially that of a 
person or thing revered as supremely powerful or beneficent.
This strand is named after one of our Soul Tie Sister's companies ~
deiteinc.com
.  Consciously created tea blends for conscious consumption.
Featuring handmade evil eye lampwork beads.  Lampwork is a type of glass work 
where a torch or lamp is primarily used to melt glass. Once in a molten state, the glass is formed by blowing and shaping with tools and hand movements.  The "nazar" or "evil eye" is believed to be the eye that protects it's owner from from evil spirits and the jealousy (ill will) of others.