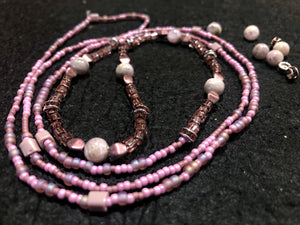 LAVENDER KUNZITE.
Sale price Price $65.00 Regular price Unit price / per
Affirmation:  I release outer influences and I am filled with Divine Love.
Our Kunzite is a naturally sourced crystal from Madagascar, pure in energy and joyful in nature.

In palest pink to light violet hues, it is a Stone of Emotion, opening and connecting the heart to the mind and stimulating a healing communion between the two.  This healing communication between the heart and mind activates the Heart Chakra and aligns it with the light violet energy of the mind, the Crown Chakra.
Kunzite opens the heart to the energies of love - love of self, love of others, love for all things.  By embracing all other types of love, we open to receive Divine Love and to recognize the essence of the Divine in us. This receptivity allows the love and gifts of God to flow through our heart and life in infinite abundance. It helps us move through the day with kindness, gentleness and serenity. 
Our goal with this special strand is to produce a powerful peace penetrating the inner core of one's being, and is expressed as pure joy in thoughts and feelings.  May you feel free with unfettered intellect and heart.