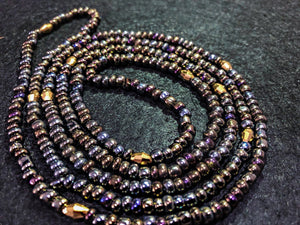 NIGHT SKY.
Sale price Price $45.00 Regular price Unit price / per
Only in the darkness can you see the stars. 
Inspiration/Meaning: Often depicted as a starry woman stretched out over the Earth, Nut, the Egyptian goddess of the night sky, speaks to the unknown in her vast celestial vault. She's a reminder of the infinite possibilities and the importance of allowing oneself to be open to the unknown by releasing the reigns without having to plan every aspect of life. There is much in the universe that will remain a mystery and it's good to leave space for it in the weaving of life so that we do not block the things that what were meant for us, even those things we never knew we needed. 
Featuring iris round glass seed beads with antique-like, charming and eye-catching colors.  Accented with faceted oval shaped golden plated beads.