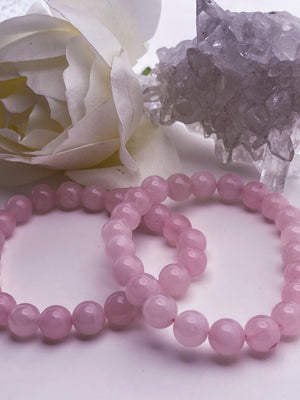 ROSE QUARTZ. (Heart Chakra)
Sale price Price $40.00 Regular price Unit price / per
Handmade and stranded on durable, stretchy elastic.  One size fits all.

Stone: Natural Rose Quartz, works with the Heart Chakra.

You will receive a similar bracelet to the one pictured. Since these are natural stones there will be some variation. 
Rose quartz is often called the Love Stone. It is the stone of unconditional love: self-love, family, platonic and romantic. Rose quartz has a strong energy that can enhance love and opens the heart chakra. Rose quartz is a very happy stone that is calming and reduces stress. Rose quartz is also used to raise self-esteem and a strong sense of self-worth as well as balance emotions and bring peace and calm. Rose quartz is also often used to help heal emotional wounds.