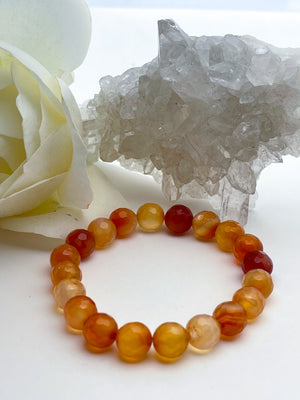 CARNELIAN. (Sacral Chakra)
Sale price Price $30.00 Regular price Unit price / per
Handmade and stranded on durable, stretchy elastic.  One size fits all.
Sacral Chakra: Creative expression, passion, desire, pleasure, sensuality, sexuality.
Stone: Carnelian
Carnelian Stones give you the courage and accelerate your motivation. They help you to clarify your goals and stimulate ambition and drive. Carnelian aids in moving forward on a new life path and in making career choices. Its energy is that of courage, confidence, and creativity. Carnelian energy brings vitality and helps to dispel fear and bring inner peace. Carnelian sharpens your enjoyment of life and stimulates the health of the physical body generally. It is a stone of warmth and joy and helps timid speakers. Carnelian is also a stone used to enhance passion.