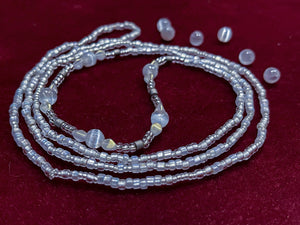 SELENITE.
Sale price Price $66.00 Regular price Unit price / per
Our selenite is the most notably sourced selenite from the Naica Mine's Cave in Chihuahua, Mexico.  This strand is made up of pearly white beads.  
Selenite is named after the Greek goddess of the Moon, Selene, and has a mesmerizing soft white pearlescent glow.  This strand is a pearlized white color.  It is said that the ancient Greeks used Selenite minerals as windows to amplify the moonlight so they could see more clearly, which are still common uses for Selenite today.  Selenite is thought to offer protection of one's aura, energy and environment, and to cleanse blockages in meditation, aiding to lift one's awareness to higher planes of inner experience.